Adapting to the new normal
Moving to a working from home model:
Compliance, security and our team at the top of our minds
As we have navigated through the times of the pandemic we have ensured to remain HIPAA and PCI compliant and that our systems are continuing to provide a safe environment of our client's data.
In addition taking care of our team has also been a top priority and we have seen some impressive results!
Below we will outline more in detail on the measures we have taken during these times.
Measures and enhancements we have put in place
Compliance
Confidentiality Agreements were in place for all staff members.
HIPAA/PCI-DSS were re-certified.
Existing policies and procedures were reinforced. Prohibiting employees to allow people around them to use their work-devices, including mobile phones that are enabled with SkyCom applications.
Employees maintain paperless workspaces, no matter where you work.
Staff have equipment that is configured by SkyCom IT for monitoring, data protection and tracking purposes.
New HR Director
This year we employed a new HR director and made changes within our HR team. They have been amazing looking after our staff, keeping up the spirit and ensuring all these new compliance measures have been put in place.
Improved employee morale
In addition we are glad to see the following uplifts in employee morale since we transited to a working from home model:
Decreased employee attrition
Increased productivity
Removing the commute to work seems to be the main reason for this. Traffic in the cities is very heavy in rush hour and our staff can now enjoy more time before and after work to do their own things.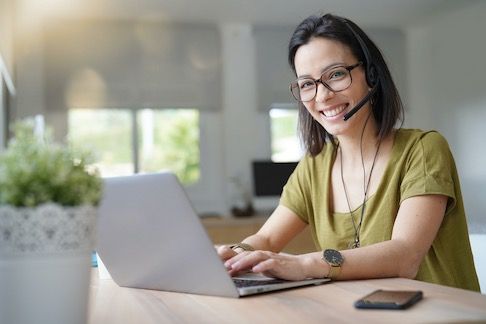 Special measures for those in office
While most our staff are working from home, we do have a small staff contingency reporting to the office daily. They are required to follow all infection control procedures as defined by the Ministry of Health and SkyCom's Disaster Recovery Plan during the COVID-19 pandemic.
Password protection and encryption
Just as in the office, our devices are not only password protected but also encrypted to ensure all PHI is encrypted before being transmitted. 
In addition, VPN connections, firewalls and anti-virus protection have been installed.
Our IT department has also set up logs of remote access activity and implemented automatic time outs from the network once the workday is over will help to limit any PHI ending up where it shouldn't.
Contact us
If you are already a client of ours and have any questions or concerns about compliance in this new environment, don't hesitate to contact us. Equally if your business is looking for support with an affordable and reliable solution to maintain business continuity throughout this crisis and into the next wave of COVID-19, let's have a conversation on how we could help make that happen.